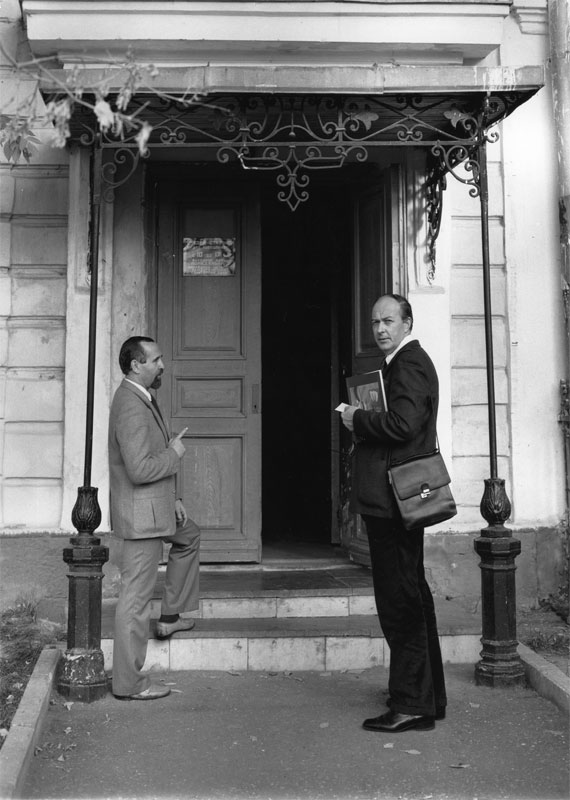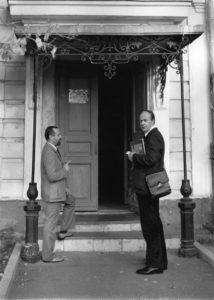 The fast pace at which I was obliged to prepare the 1987 exhibition gave me little time for commenting on individual works. Furthermore it did not seem necessary or even possible to do so for the series of landscapes or the Rayonist compositions whose iconography did not call for isolated explanations. However, after their attribution was called into question I undertook laborious iconographic investigations with the aim of identifying certain subjects, particularly those of the large series of pen-and-ink sketches, of which only a very small portion was included in the show.
In the 1990s I was able to make headway in this endeavour thanks to the help of two colleagues in Moscow, both exceptional experts of Futurist literature, Aleksandr Niktaev and Rudolf Duganov. The late Rudolf Duganov, a former collaborator of the Mayakovsky Museum in Moscow and assistant of Nikolai Khardzhiev, was able to confirm in particular that Khardzhiev had been acquainted with Larionov's works on paper and had even sought to approach their owner with a view to acquiring them. It was Duganov who told me about the work of the art historian Aleksandr Kovalev, who had undertaken extensive research into the work of the artist's Russian period.
Provenance
As indicated elsewhere on this site ("Beyond the Issue of the Pastels"), the existence of the works preserved by Nikolai Dmitrievich Vinogradov (1885-1980) is attested repeatedly by other historians of the Russian avant-garde, in particular Aleksandr Kovalev, whom I had the luck to meet several years before he died prematurely. Kovalev authored the first study of the artist's Russian period1See A. Kovalev, Mikhail Larionov v Rossii 1881-1915 [Mikhail Larionov in Russia, 1881-1915], Moscow 2005, pp. 558, 560 & 562. See also several articles by Elena Ovsiannikova, especially "Larionov i Gontcharova – Materialy iz arhiva N. D. Vinogradova" [Larionov and Goncharova – Documents from the Vinogradov Archives] in the collection Larionov i Gontcharova. Issledovanija I publikacij, Moscow 2001, pp. 55-72. The same publication contains a number of letters by Larionov, including his letter of 12 February 1925 to the academician P. S. Kogan, concerning the works on paper the artist left behind in Moscow.. As he stated in the course of our conversations, Kovalev mentions in his book that he consulted Vinogradov's archives in the autumn (September-October) of 1976 and specifies the presence of documents concerning the artist's pastels2Ibid. p. 558.. For his part, in his letter from Paris of 15 December 1925 to Anatolii Lunacharsky, Larionov clearly indicates that his "works and those of Goncharova are in the hands of the architect Nikolai Dmitrievich Vinogradov" and include "paintings and pastels."3Handwritten letter in the GARF archives, Moscow, f. A-298, op. 1, ed. hr. 120, sheets 51 & 51 verso. .
By way of example, here are links to several brief comments about individual works in the 1987-88 exhibition :
Cat. n° 1, illustrated page 82 : Moscow, Red House
Cat. n° 9, illustrated page 119 : Relaxing
Cat. n° 24, illustrated page 101 : The Elephant
Cat. n° 37, illustrated page 102 : Two Trees
Cat. n° 86, illustrated page 138 : Portrait of David Burliuk with Monocle
Portraits nos. 91 and 92 show widely different expressions of the same sitter : Vladimir Maïakovski ; no 84 is a portrait of Natalya Goncharova. Cat. no 84, illustrated page 127 : Woman's Face
Thanks to my iconographic investigations I was able to identify several persons who lived in or frequented the "Romanovka" student housing on Bronnaia Street during the winter of 1912-13, where, judging from the identified portraits, Larionov must have been a frequent visitor.
The other persons I succeeded in identifying include Andrei Chemchurin, the writer, friend and patron of Futurists, the painter Pavel Filonov, the gallery owners Nadezhda Dobychina and Klavdia Mikhailova, the painters Ivan Firsov and Vyacheslav Levkievsky who gravitated in Larionov's immediate circle, as well as several little-known artists, the poets Mayakovsky, Vasilii Kamensky, Velimir Khlebnikov, Aleksei Kruchënykh and many others.