One of the Favourite Media of Modern Painters
Mikhail Larionov's pastels were well known and highly appreciated in his day. In fact, several of the artist's letters attest to the existence and importance of pastels in his oeuvre (and that of Goncharova) and to the fact that he regarded them as equal to his oils.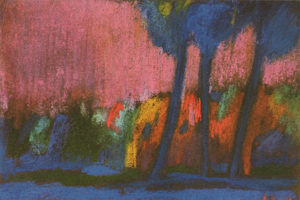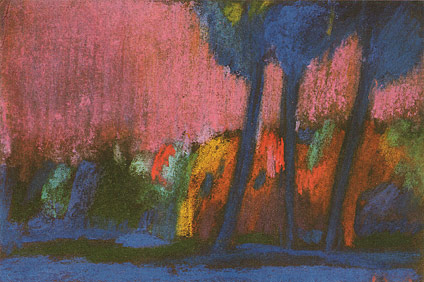 Larionov's pastels feature in the catalogues to several exhibitions between 1906 and 1915 as well as in the first cursory list of his works that Ilya Zdanevich compiled in 19131See the "documentary appendix" in Eganbury (the pseudonym of Ilya Zdanevich), Natalija Goncharova, Mikhail Larionov, Moscow, 1913, pp. XVI-XXI.. Supervised by Larionov and published in Moscow at his behest, this inventory enumerates pastels as an integral part of the artist's output in the years 1898, 1900 and 1904 (works in the collections of Ivan Morozov, Valentina Khodashevich and others). Pastels are also mentioned in the catalogues and reviews of the artist's Russian exhibitions, notably those of 1909 and 1911. One of the pastels dating to 1906 was particularly renowned; the collector Troianovsky acquired it and it is now part of the State Tretyakov Gallery in Moscow.
The technique of drawing with pastels was popular in Moscow, where it was used by pro-Western painters (Valentin Serov, Victor Borissov-Mussatov). The fact that French Impressionists (Manet, Renoir, Monet and especially Degas) and Symbolists (Fantin-Latour, Odilon Redon) had practiced this art added to its lustre. Bonnard and Vuillard, who both gravitated in the Revue Blanche circle, excelled in pastel techniques. The speedy transcription of visual perceptions that the medium makes possible was perfectly in tune with the need for brilliant colours and, above all, the sense of immediacy that goes with the art of capturing fleeting sensations. The specific qualities of pastels were thus well adapted to Larionov's Impressionist and Expressionist postulates. An echo of this passion for expressive colour is found in the West  – Odilon Redon springs to mind – in the pastels of Edvard Munch and Frantisek Kupka and in the work of Central European artists of the Symbolist and Expressionist vein (the Polish artist Wojciech Weiss, 1870-1950, the Prague artist Antonin Slavik, 1875-1910, and many others).
When he had travelled to Paris and London in 1906, as well as on visits to his friend the celebrated collector Sergei Shchukin, who owned several of Degas' most remarkable pastels, Larionov had had opportunities to become acquainted with particularly dazzling examples of the pastel medium.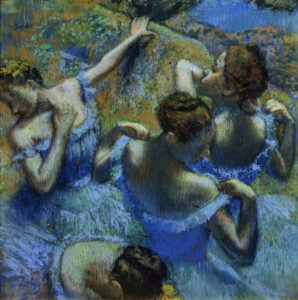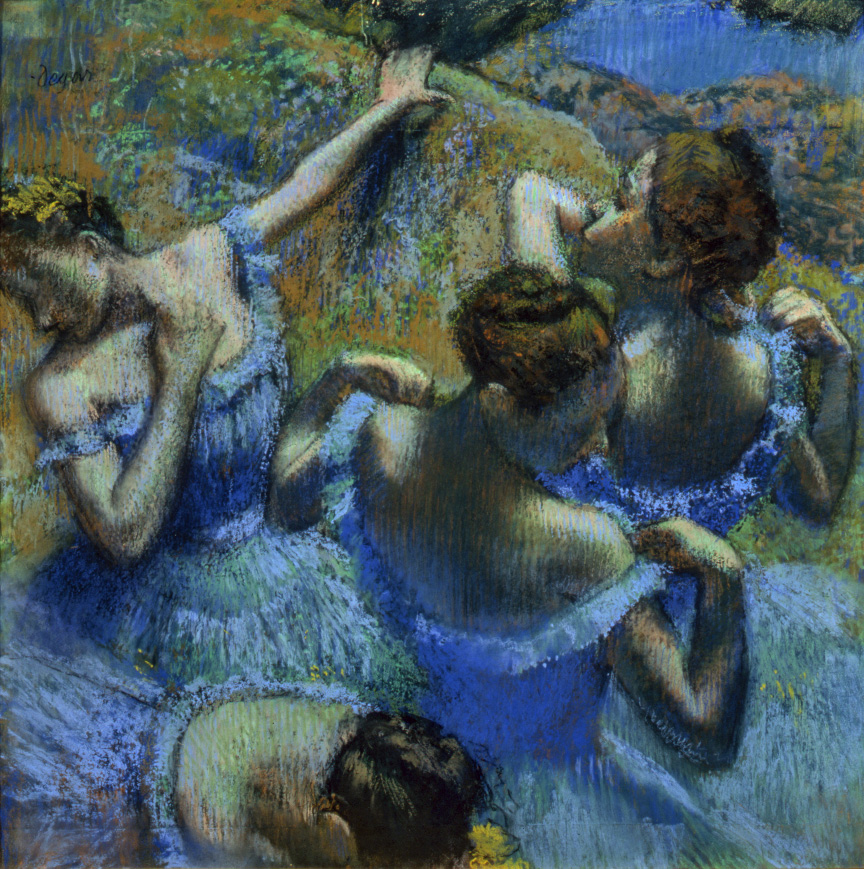 The relationship between pastels and oils, notably effects obtained from handling the same motif in the two media, remains a little explored topic in the history of modern art, not only with regard to early 20th-century (Fauvist and Expressionist) art but also where Impressionism is concerned. Renoir's example and above all that of Claude Monet make it clear that effects due to the difference of the technical means employed – pastel versus oil – produced widely different stylistic registers.
The relevance of these remarks applies equally to Degas's art where effects obtained from pastels are unquestionably superior to those produced in oils. Degas subsequently extended these colouristic refinements in his monotypes, where pastels engage in a fruitful dialogue with the expressive black of lithography combined with surprisingly brilliant oil colours. Larionov's use of certain pigments, which became commercially available at the time, such as the aniline paints one finds in some of his gouache series (see nos. 152, 153, 154, 157 in the 1987 catalogue), bears witness to his interest in luminous effects, and was thus integral to his Expressionist aesthetic.
Bear in mind also the considerable curiosity for highly colourful painting displayed by artists of Larionov's aesthetic persuasion, as reflected in their craftsman-like and particularly experimental approach to colour. Such experiments are found frequently in the work of the Russian milieu in Munich as well as in that of Moscow artists2For further on this topic see the memoirs of Kandinsky's friend Dmitri Kardovsky, and those of the Impressionist painter and future director of the Tretyakov Gallery, Igor Grabar.. Indeed some of these experiments were so extravagant – in other words technically as well as artistically so unconventional – that they occasionally gave rise to accidents. Hence the famous fire in Ilya Mashkov's Moscow studio in 1912, produced by chemical experiments connected with the artist's improvised production of pigments.