Twenty Years Later :
"Fakes" that Turned out to Be Genuine
At the beginning of the 1980s a vast ensemble of works on paper by Mikhail Larionov surfaced in Western Europe (initially in Paris, then in Berlin, Zurich and Stockholm). It consisted of several hundred pastels, gouaches, watercolours, pen-and-ink drawings, coloured-pencil drawings and works in other media. During the winter of 1984-85 I was asked several times to authenticate some of these pastels, gouaches and watercolours. Thitherto unknown, these works were presented to me accompanied by fanciful references which made it extremely difficult to check their provenance. At the time scholars were unable to access both Soviet archives and those of the artist's widow, and thus it was virtually impossible to carry out the documentary research necessary for indisputably establishing the provenance of this body of works1The Soviet archives as well as those in the hands of the artist's widow in Paris were virtually inaccessible art the time; documents pertaining to the Russian avant-garde were simply not available. Since the fall of the Berlin wall this area of scholarship has experienced an unprecedented boom. Owing to the poor state of health of the artist's wife and to her dependency on her art dealer François Daulte, the disappearance of these documents after her death has deprived scholars of an essential resource. This situation is spelled out clearly in the letters that Alexandra Tomilina-Larionov,  exchanged with her younger sister Ksenia. I was able to consult the Moscow documents thanks to the work of Mr Aleksander Reyjevsky, the Russian lawyer of Alexandra Tomilina-Larionov's family.. The only way of giving them an attribution them was by means of a visual, physical and stylistic examination.
The overwhelming majority of these works bore a full signature or artist's monogram in Cyrillic characters. For the most part they were works of considerable quality ; in certain cases they belonged to a type as yet unknown in the artist's output. All of the works I was given to examine seemed to belong to the artist's Russian period, in other words to a period prior to the summer of 1915. At the time art on paper by Larionov of this type and from this period were almost unknown in Western Europe and, like other works of the "Russian avant-garde," had been studied very little, if not completely neglected.
In June 1915 Larionov, responding to an invitation by Serge Diaghilev, had left Moscow for Lausanne in the belief that he would return to Russia shortly thereafter. Gravely wounded on Russia's western front, the painter had intended to convalesce abroad while his companion, Natalya Goncharova, worked on stage designs for Serge Diaghilev, whose fame had already spread beyond Russia's borders. Seriously impaired by his wound, the painter's health had later negatively affected his ability to produce art, the quality of which had declined during the 1920s and 30s and had later slumped even further. It would thus be no exaggeration to say that there are two painters in Larionov, before and after 1915.
Leaving Moscow on the spur of the moment for a trip that was to have lasted no more than several weeks or at most several months, Larionov had left the body of his works in his studio. After settling in Paris at the end of 1917, he had sought during the ensuing decade to retrieve his Russian output. In the mid-20s he had succeeded at the cost of immense efforts to have a number of his paintings (oils on canvases) sent from Moscow, as well as the paintings which had been dispatched, following the 1914 Paris show, to Herwarth Walden's "Der Sturm" gallery with a view to exhibiting them in Berlin.
A History of Censorship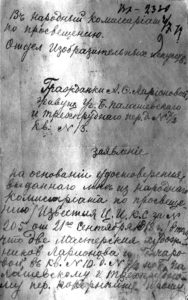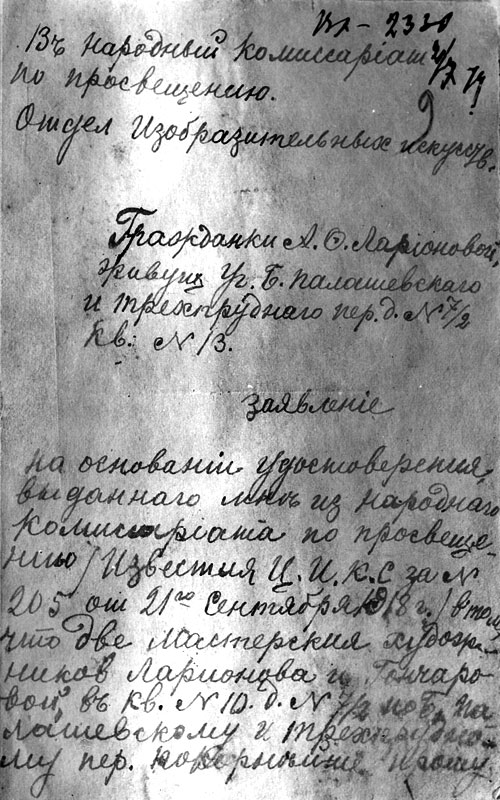 At the time I examined the works on paper in question here, the mid-80s, the scholarship devoted to Larionov's art was as yet shadowy. Prohibited in the artist's own country due to his status as an "anti-Soviet" émigré and previously rejected for aesthetic reasons, Larionov was neither exhibited nor studied. His art remained confined to the purgatory of "bourgeois decadence" and was consequently opposed by the tight-lipped guardians of Socialist Realism. As a result a retrospective of his work scheduled to be held in 1980 at Leningrad's Russian Museum was downgraded at the last minute to a simple display, the State censorship having forbidden the publication of the catalogue.
In Western Europe, the few documents the artist had managed to collect with great effort were in the hands of his widow in Paris, whose lack of expertise in art history proved unequal to her fervent devotion to the artist's memory. Ailing and elderly, Alexandra Tomiline-Larionov was then living in the suburbs of Paris. Placed by her Swiss dealer François Daulte in a private clinic in Lausanne (Switzerland), she died on 14 September 1987. As we shall see, the date of her death had considerable significance in the story that follows.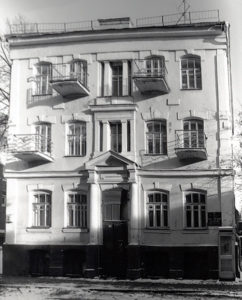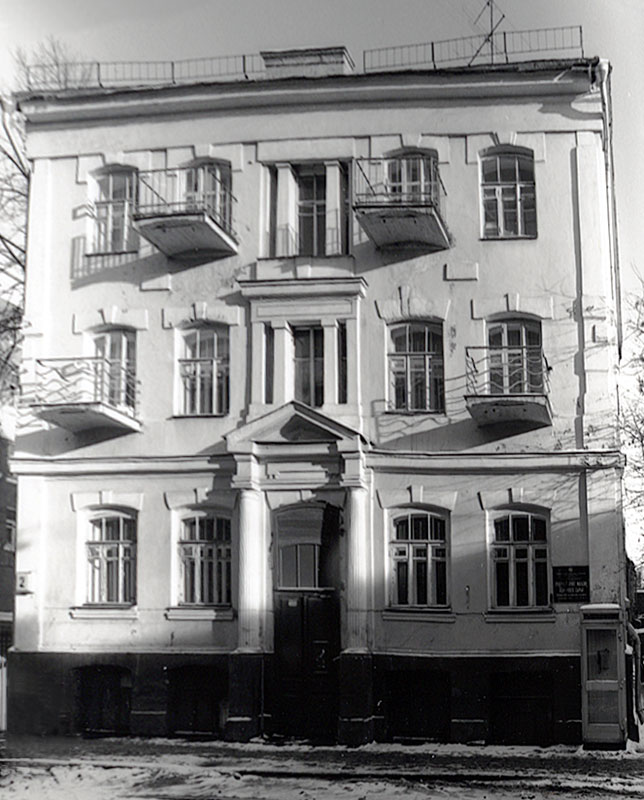 It will be recalled that in the mid-80s when I had access to the greater part of this vast collection of works on paper, the Soviet archives were still solidly closed to both Russian and Western scholars. As one of the first persons to consult them, I only had access to them in the autumn of 1987, and this with certain restrictions, the area of my investigations being mainly limited to Kazimir Malewicz and Aleksandra Exter.
Owing to ideological prohibitions, studies in this field by Russian (as yet "Soviet") art historians – with all that this implied in terms of self-censorship – were few and far between. As one of them was to declare in the spring of 1988 in the official Sovetskaya Kultura, "the reason for the ignorance surrounding Larionov's oeuvre" was principally due to the (political) situation of Russia: work on this subject was not only discouraged for social reasons, thus rendering research in this area particularly difficult, but mainly it was known to be unproductive, for there was no chance that it could be made public, still less acknowledged, and it was virtually inconceivable that it would be published. The non-appearance of the 1980 exhibition catalogue is a case in point.
∴
As I came to realize in the course of research following the closing of the 1987-88 exhibition, the first important selection of works I was asked to examine in Paris during the spring of 1985 by no means encompassed the entire body of Larionov's pre-1915 works on paper. However, the large number of works I was able to examine singly, their stylistic variety and above all their considerable plastic quality soon convinced me that what I was looking at was a "golden" treasure trove. My researches in Russia throughout the 1990s subsequently enabled me to establish that this was simply the artist's finest work, which had been saved from the looting and destruction that had followed the disorders of the winter of 1918 and especially 1919, in the wake of the October Revolution. Thanks to the fact that I was shortly given access to certain private sources, was able to have discussions with my counterparts in Moscow and, above all, to carry on my investigations at the Moscow RGALI (Art and Literature Archives), I was able to collect trustworthy information and discover documentary evidence of the peregrinations of these works between 19192I refer to a letter that the artist's sister Aleksandra Larionov sent on 9 July 1919 to the Moscow Committee for the Protection of Monuments and Art Works, in which she asks that Larionov and Goncharova's studio, which was threatened with looting, be protected (RGALI Archives, M, holding 680, IZO). The notebooks of Nikolai Vinogradov, excerpts of which were published in 2001, attest that this letter hadÒ an effect (see Biblio. Ovsyannikova 2001, also cited below). This source is much richer than would seem at first glance: the vicissitudes of the studio's fate are mentioned in several places, not just those cited by Ovsyannikova, in particular under entries for the years 1922-24. Unfortunately I had only a very limited access to these notebooks, which deserve to be examined a great deal more carefully. and the early 1980s.
A Banned Art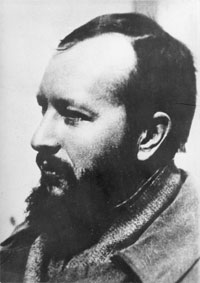 In Moscow I thus learned that the existence of this body of works on paper was confirmed by the very few Russian art and literature historians to have taken an interest during the 1960s and 70s in Larionov's art and that of the Russian Futurists (Nikolai Khardziev, Rudolf Duganov and especially the art historian Aleksandr Kovalev, 1944-1992, whose work was published posthumously in 2005.)3A. E. Kovalev, Mikhail Larionov v Rossii – 1881-1955 g.g. [Mikhail Larionov in Russia, the Years 1881-1915], Moscow 2005, 622 pp (posthumous publication), especially Part II, a selection of documents, p. 323 ff. Research undertaken in view of the aborted Russian Museum exhibition in Leningrad had led one of the organizers, Aleksandr Gubarev, to examine the works from the studio, which in 1980 were still in the hands of the architect Nikolai D. Vinogradov (1885-1980). Dedicated to protecting historical monuments and artworks, Vinogradov, a friend of Larionov's in Moscow, had in the 1920s saved the body of work in the artist's studio from destruction4See Ovsiannikova, A., "Larionov i Gontcharova Materialy iz archiva N. D. Vinogradova" [Larionov and Goncharova Documents in the Vinogradow Archives] in Larionov i Gontcharova. Issledovaiya i publikaciy, Moscow 2001, pp. 55-72. The same publication contains several letters by Larionov, including one to the academician P. S. Kogan (12 February 1925) concerning the works on paper left in Moscow, which mentions Vinogradov by name.. Alien to artistic circles and almost blind at the end of his days, Vinogradov, an archaeologist and architecture historian who had never adhered to modernist avant-garde theories, still less to "Futurist" ones, had totally lost interest in the Larionov archives which had been in his possession for several decades. In his eyes they were "historical" documents; he had saved them many years earlier and for this reason they were no longer present in the forefront of his mind. Nevertheless, his renewed contacts with the curators of the Mayakovsky Museum shortly before his death were to result in bringing to light part of the vast archives and disparate collection of documents that he had preserved from anti-modernist destruction5Vinogradov's personal notebooks (private collection, Moscow) contain an explicit account of the dramatic decline of the socio-cultural situation and of the danger of any contact with a "white" émigré at the time for an owner of such archives. Vingradov's contacts with Mayakovksy Museum resulted in this institution buying a large collection of Rosta posters that he had been able to preserve. The material conditions, unusual for the time and social milieu, thanks to which he succeeded in saving these works, are outlined in Ovsiannikova's article (op. cit., 2001).. What ensued thereafter was part of dramatic, turbulent 20th-century Russian history and, in the end, that of the history of Russian emigration, especially Jewish emigration, which unfolded at a particularly accelerated pace in the final troubled years of the Brezhnev era (the seventies).
During my initial contacts with substantial portions of this corpus I was mainly asked to authenticate Rayonist works, as this was the only aspect of Larionov's oeuvre to arouse any interest in the West – an interest, I may add, limited to a handful of connoisseurs.
The poor knowledge of Larionov's art at the time and specifically the condescension with which Russian Expressionist and Futurist productions were generally regarded then were such that I became aware of the existence of the artist's extraordinary Expressionist pen-and-ink works (portraits and scenes) until only a few months later, almost by accident. Judging them "devoid of interest" (from the commercial viewpoint), it had not even occurred to the original owner to show them to me.
As an art historian chiefly interested at the time in studying the origins of abstract art, I was far more drawn to Futurist and Expressionist works, which in my view gave one a better understanding of Larionov's approach, notably the principle behind his pictorial development, and consequently the advent of Rayonism, that first blossoming of abstract art to emerge in Russia from the Impressionist and Futurist adventures of modern art.
Chiefly occupied with a lengthy study of Kazimir Malevich's art, I had little time to devote to examining these works on paper notwithstanding my high regard for the quality of Larionov's output. Making such an examination all the more arduous was the fact that the access to the artist's personal documents was blocked by his aged, ailing widow and by several less than scrupulous Parisian art dealers – circumstances that were hardly congenial to undertaking an exhaustive examination6For example, a letter I sent to Larionov widow's official dealer, François Daulte, went unanswered; replies to other written queries contained deliberately misleading information, and so forth..
An Objective Look
In late 1986, I was approached almost simultaneously by the directors of two Western European museums, Geneva's Musée d'Art de d'Histoire and the Schirn Kunsthalle in Frankfurt. The latter had begun to hold exhibitions of Russian avant-garde art, which was beginning to arouse interest nearly everywhere in Western Europe, especially in Germany. Strapped for time I initially refused to undertake organizing any kind of exhibition. However, recalling the existence of Larionov's works on paper which I had recently examined, I changed my mind and to the two museum directors suggested exhibiting them. Their response was immediate and enthusiastic. The main reason for this was the quality of the works in question. Carrying on my investigation into what had led Larionov to his first abstract work, the Rayonist compositions of 1912, I soon settled on a selection of representative works and gave the exhibition an appropriate title "The Path to Abstraction"7Mikhail Larionoiv : la voie vers l'abstraction. Der Weg in die Abstraktion, a bilingual catalogie by A. Nakov (exhibition curator).

Venues:

a). Schirn Kunsthalle, Frankfurt, 9 April-24 May 1987.

b). Pinacoteca de Bologna, Palazzo Pepoli, Bologna, 4  September-26 October 1987.

c). Musée d'Art et d'Histoire, salles du Musée Rath, Geneva, 10 March-24 April 1988.

. Paradoxically, the task of making the selection was made easier by the fact, as one of the owners of the artist's works said to me, "These works may be of interest for art historians but nor for anyone else. They are simply unsellable."
The exhibition was assembled in barely two months. I rapidly wrote a catalogue; in the absence of detailed comments on the individual works, a difficult if not impossible task at the time, I strove to provide a substantial section of source documents.  The show, which opened on the 9-th of April 1987 in Frankfurt, was an undeniable success8See the appendix containing the reviews of the Frankfurt exhibition during the year following its opening, before the Geneva "scandal" was launched in April 1988., German art audiences being  particularly responsive to the Expressionist side of Larionov's work, a work closely linked to the art of the Munich group Der Blaue Reiter (The Blue Rider), with which Larionov was regularly in touch in 1910, 1911 and 1912. Having established amicable relations with Wassily Kandinsky in Moscow, Larionov had invited several members of the group to participate in the exhibitions he had organized in Moscow. In 1912 he had taken part in turn in the second "Blue Rider" exhibition in Munch.
Acceptance of my authentication of Larionov's works was unanimous. My North American and European colleagues who assembled exhibition catalogues for works of the same provenance immediately accepted my attributions. These exhibitions were held in private galleries in Zurich, Stockholm, New York and Montreal, as well as at the Museum of Modern Art in Winnipeg (Canada)9Schlegl Gallery, Zurich (Swizerland), 22 March-16 May 1987. Illustrated catalogue introduced by the Zurich Slavic scholar Philipp Ingold.

Aronowitsch Gallery, Stockholm (Sweden), November-December 1897. Large illustrated catalogue containing articles by the Slavic specialist and American university professor J. Bowlt, the British art historian A. Parton, author of a doctoral dissertation on Larionov (published as Mikhail Larionov and the Russian Avant-Garde, Thames & Hudson, London, 1993).

"A New Spirit," Barry Friedman Gallery, New York; 1987, a group exhibition which included several of Larionov's pastels from the same source. Illustrated catalogue with an introduction by J. Bowlt.

Three pastels from the R. Boulée Collection in Paris featured in the exhibition "1912 – Break Up of Tradition/Traditions et reptures," Winnipeg Art Gallery, Winnipeg (Canada), 7 August-4 October 1987) assembled by the Canadian art historian Louise d'Argencourt. (The pastels are illustrated and commented on in the catalogue, cat. no. 54 and 163, ill. p. 133, and cat. no. 162, ill. p. 130.).
Moreover, as I was to learn from the lips of François Daulte in the course of the legal proceedings that followed10During a legal confrontation ordered by a Geneva judge on 14 March 1995., the artist' widow Alexandra Tomiline-Larionov had also confirmed the works' authenticity, having seen the catalogue of my Frankfurt exhibition in May 1987. Thus Larionov's works in paper from this source undeniably gained acceptance in 1987, and even a certain measure of fame.
Continuing the momentum of its Frankfurt success, "The Path to Abstraction" opened in September 1987 at the Palazzo Pepoli in Bologna (Italy), as one of the events previewing that city's new modern art museum11Received almost as warmly as the Frankfurt exhibition had been. See for example the review by Claudio Spadori, "Futurista dell'Est – L'avanguardia de Larionov a Bologna," Carlino Terza, Bologna, 19 October 1987.. Having gone back to my research on Malewicz, I viewed this experience as a closed chapter in my professional life. Furthermore I was involved at this time in a large-scale venture, a major "Dada and Constructivism" exhibition, which opened shortly afterward in Japanese museums (Tokyo and Kamakura)12Named "one of the ten best exhibitions of the year" in Japan, this exhibition was later held at Madrid's Centro Reina Sofia (spring 1989).. I was keenly interested in the work of preparing this show, though it led in a direction far removed from the Expressionist and Rayonist preoccupations of Larionov's lyrical abstraction.
Concocting a Scandal
In March 1988 the exhibition "The Path to Abstraction" opened in its final venue, the Musée d'Art et Histoire in Geneva, where it garnered the same praise it had received in Germany a year earlier13The response to the Geneva exhibition was initially as positive as it had been in Frankfurt. See for example Laurence de la Baume's article "Mikhail Larionov, clé de l'art moderne" in Journal de Genève, p. 22. For other reviews in the French- and German-speaking press, see Ciresica Ruz, "Mikhail Larionov ou la voie vers l'abstraction" in Journal de Genève ; Georges F.-Gianola, "Exposition Mikhail Larionov au musée Rath" in Le messager de Thonon, Thonon-les-Bains (France), 1 April 1988; F. J. "La peinture irradiée" in Le Matin, Lausanne (Switzerland), 7 April 1988;  Jeanmarie Hänggi, "Héroisme et aventure dans l'art," in Le Démocrate, Delemont (Switzerland), 11 April 1988, p. 24; Elisabeth Dumont-Gauye "Le rayon interrompu, Exposition Mikhail Larionov," in L'Hebdo, Lausanne, 7 April 1988, p. 93; and Christoph Vögele, "Farbige Träume der vierten Dimension" in Neue Züricher Zeitung, Zurich (Switzerland).. My only task at the time consisted in hanging the pictures.
Early in April 1988, about three weeks after the Swiss show opened, I was somewhat surprised and in fact irritated by what I wrongly regarded as a joke in poor taste, to get a phone call one evening from an unknown Geneva journalist. This person, who manifestly had no artistic knowledge and did not even claim to have any, or so it seemed to me, asked me if I had any comments regarding the authenticity of the works in the exhibition, as "several experts who wish to remain anonymous" (!) "have stated that all the works in the exhibition are fakes." This was alleged to have been confirmed by a chemical analysis of pigments said to date "later than 1941." I brushed away these allegations without making a comment, a mistake, for I was soon to learn that this was only the beginning of a skilfully orchestrated press attack.
Conducted by professionals, this campaign was launched simultaneously in several Swiss publications, chiefly the Geneva daily paper La Tribune de Genève14The several week-long campaign kicked off with an article by Isabel Garcia-Gill, "Des faux au Musée Rath," which appeared in the Tribune de Genève on 8 April 1998. and on television. The Tribune's "revelations" were immediately picked up by the German and American press. Evidence of the professional nature of this work was the fact that a few weeks later, on the day of my (private) arrival in Tokyo, I was welcomed by a local Japanese newspaper printing news of the "Larionov scandal" in Europe. I remind the reader that the artist's widow having died in the interval (on 14 September 1987) there was nothing henceforth to prevent putting the authenticity of his works into question. As I was to discover some years later, following her death François Daulte, the principal (but not the only) instigator of the authenticity controversy, had "cleaned out" her Paris home with complete impunity15This was recently corroborated thanks to investigations conducted by the French police in connection with a different case, in which Daulte's name unexpectedly appeared. The Moscow family of the artist's widow having been cheated, the descendants of Alexandra Tomiline-Larionov initiated a court action in Paris. On 12 March 1998 her heirs filed a first complaint against "persons unknown" at the Paris Tribunal de Grande Instance for "breach of trust and fraud" (misappropriation of a legacy). Daulte played a leading part in this case (see François Duret-Robert, "Les mystères de la succession Larionov," Le Figaro, 12 July 2002, p. 22; "My rabotali, chtob' ostavit' vsë rodine" [We Worked in Order to Leave Everything to the Fatherland], Moskovskie Novosti [Moscow News], no. 43, Moscow, 27 October 1996, p. 20 (concerning the misappropriation of the legacy). A number of surprising revelations turned up in my research in connection with this subject. See also "The Strange, Illegal Journey of the Larionov-Goncharova Archive," Artnews, New York, March 1997, pp. 80-85; also E. Vichniakova "Kirienko Gave 600 000 Dollars to French Lawyers for Archives Bequeathed to Russia " (in Russian), Kommersant Daily, Moscow, 22 July 1998, p. 10. The latter article is based on an interview with the lawyer representing Alexandra Tomiline-Larionov's heirs. The author raises a large number of questions concerning the misappropriation of the Larionov legacy and explicitly invokes the responsibility of Daulte's actions. Several other Russian dailies reprinted this article in July 1988..
Fuelled by Daulte, formerly Alexandra Tomiline-Larionov's acknowledged dealer with financial interests in the Francophone Swiss press, as well as by two New York gallery owners16See Ingrid Hutton, letter of 5 April 1989 to the Tribune de Genève's journalist Isabel Garcia-Gill, published in that newspaper, which also cites the gallery owner Rachel Adler. Other players in the art market who worked with Daulte were equally active but chose prudently to stay in the background (see the beginning of this footnote). Only one art historian, a Franco-American, got swept up in the myth of "fake pigments" and made statements based on the Geneva journalist's contention. who, I was later to find out, had unsuccessfully attempted to buy Larionov pastels on the European market, the press campaign progressed with all the violence inherent in such undertakings. Every type of amalgam was brought into play, including innuendoes that I was "a KGB agent," the "secret proprietor" of the works in question, the mastermind "who commissioned them" and so forth17See Daulte's interview in Elizabeth Dumont-Gauye's article "L'affaire Larionov, le panier de crabes" in Lausanne Hebdo, 28 April 1998, as well as the "summing up" published two days later in La Tribune de Genève and partially reprinted in the German monthly Art, Hamburg, July 1988, pp. 12-13.. Throughout this period of attacks, as violent as they were fanciful, the press was shut to me, and this was to remain the case until the mid-90s, except for a few rare occasions when I was given an opportunity to respond, invariably following legal proceedings I had initiated18Two articles alone stand out from the media herd. Faber-Castel's "Fälschungen : Lynchjustiz in Sachen Kunst ?" in Finanz und Wirtschaft, Zurich, 14 March 1990, was the only positive article in this period (1988) that dared to depart from the general, blindly accusatory trend. In this piece, the title of which in itself is eloquent, the Zurich art critic draws different conclusions from the various chemical arguments. In 1995, the well-known investigative journalist Pijac published the first objective article on the affair, presenting the cases of both sides, that of François Daulte and myself ("L'affaire Larionov rebondit : on devrait savoir enfin la vérité," in 24 Heures, Lausanne, 12 December 1995, p. 47). As a result of this publication Daulte withdrew altogether from the legal and media proceedings initiated in Geneva..
In the Absence of Specialists the Market Rules Supreme
From the viewpoint of art history the disputed authenticity of Larionov's works was totally vapid. Intimidated by the fallacious press revelations, the art historians and crypto-art historians who had all initially adopted my attributions suddenly vanished from the scene. Not one of them had the courage to assert a personal opinion. Petrified by the spectre of fake artworks, not one of them addressed me, not even in a private capacity, to ask me to comment on the matter. Thus during a colloquium organized in Paris in 1995, a purportedly scientific meeting of museum specialists where François Daulte was received with open arms, the Belgian art historian delegated to give an apparently improvised presentation of the "Larionov affair" summed up his talk by merely reading extracts of press articles devoted to it (without mentioning any of my responses). Not having been invited to speak, I was obliged to interrupt the proceedings in order to acquaint the participants with at least some of the facts in the case.
Reduced to the sole dimension of a news item, the press, with an undisguised appetite for scandal, carried only those accusations formulated by the art business (chiefly François Daulte, who never shrunk from giving accusatory interviews). A somewhat disputed specialist of French Impressionism (the dissemination of his Catalogue Raisonné of Renoir had been legally stopped in France by the artist's descendants), Daulte suddenly presented himself in Geneva as a Larionov expert. This was a largely usurped title based on a few superficial articles and catalogue prefaces for commercial exhibitions.
Unable to answer my questions at a public confrontation that he himself had organized (on a programme for the Television Suisse Romande on 24 March 1988), Daulte beat a hasty retreat by saying he did not claim to be a specialist of either the period or of the Russian School, contrary to what he had clamoured to the Swiss press and in his "denunciation" filed with the Swiss courts on the highly symbolic date of 14 September 198719The date of the first anniversary of Alexandra Tomiline-Larionov's death..
During those last years of the Soviet regime, the same François Daulte organized a parallel dispute in Russia in the form of an "open letter" published in the Moscow weekly Sovetskaya kultura [Soviet Culture]20See "Vystavka poddelok" [An Exhibition of Fakes] a public statement signed by the Soviet art historians Evgueny Kovtun, Gleb Pospelov and Dmitri Sarabianov (Sovetskaya kuÒtura, Moscow, 18 June 1988).. Countersigned by three Soviet art historians, who seemed unembarrassed at confessing that they had not even seen the exhibition, this missive nevertheless condemned the whole body of the artist's works on show. In the same breath the authors declared openly that they were unable to judge the works in question "having not been able to study sufficiently the art of the 1907-1915 period."
Beyond the Issue of the Pastels: Signatures, Iconography and Documents
Lacking stylistic and specifically artistic arguments (historical, literary and so on), the attack on the exhibition rested on the so-called presence of certain pigments (famously titanium white, T102) said not to have been produced commercially until well after the dates I had proposed for the works. My accusers in America even cited the date of 1941 for the commercialization of titanium oxide (T102)… in the United States. However, European patents show clearly that this pigment appeared some twenty years earlier (the Norwegian chemist Farup patented it in 1917) and was marketed at the latest from 1920-22 (by the firm of Lefranc et Bourgeois in France and by Winston & Newton in England, not to mention Russian manufacturers, who were simply not mentioned). What is more, the fact that about sixty percent of the exhibition consisting in pastels, the remaining forty percent – gouaches, watercolours and pen-and-ink drawings – was never taken in account. The latter included a large number of urban scenes and portraits, easily identifiable subjects which lent themselves to being examined from other vantage points than the sole issue of pigments. Manifestly, what the exhibition's opponents were aiming for was a flat, blanket condemnation…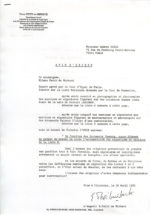 All of the works were signed or at least monogrammed. Several of the pen-and-ink works bore inscriptions. The logical thing would therefore have been to verify the authenticity of the signatures and the inscriptions. I lost no time in doing so. The expert I contacted in Paris21Eliane Petit de Mirbeck, a handwriting expert registered at the Paris Appellate Court. In a report dated 10 April 1989 she confirmed the authenticity of the artist's signatures on the works exhibited in Frankfurt and Geneva.

See her report [Link].
confirmed that the handwriting was indeed that of the artist22The court in Geneva chose not to respond to my request for a handwriting expertise or for paper analyses, which nevertheless proved conclusive. The latter were carried out in the Service Central d'Analyses et d'Assistance Technique de la Papeterie at the Grenoble CNRS (report no. 11986 dated 6 February 1989).. As for the inscriptions in Cyrillic writing, I asked for a new expert opinion in Moscow twenty years later. The result of this examination, far richer and more detailed than the earlier one, confirmed that the signatures were definitely Larionov's23The handwriting examination was carried out in 2009 at the Centre for Legal Analyses in Moscow (registered with Russia's High Court of Justice). The experts compared the signatures and inscriptions on the contested works in the 1988 exhibition with a wide range of signatures on works in public collections and on documents kept at the State Art and Literature Archives in Moscow (RGALI, M). Their conclusion was that the signatures on the works in the 1987-88 exhibition were authentic (see "Zaklyuchenie" (Conclusion) no. 664/SKE dated 28 December 2009).

See the handwriting expertise.. Like many other findings I submitted to the court in Geneva, this result was submerged in the commotion of what remained a pre-programmed denigration of the works in the exhibition.
Report on the graphological analysis, Moscow Centre for Legal Analyses
Thanks to iconographic and simple historical research I later conducted in Moscow I was able to identify the location of some of the scenes the artist had represented (views of the Kremlin, courtyard of the building on Treypudny Lane where Goncharova and Larionov had had their studios) as well as actual persons other than those featured in the exhibition works (the figures in the works reproduced in the exhibition catalogue were drawn from the artist's immediate entourage: his companion Goncharova, Vladirmir Tatlin, the composer and painter Mikhail Matiushin, David Burliuk, the poets Mayakovsky, Kruchenykh and Khlebnikov.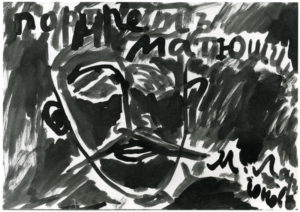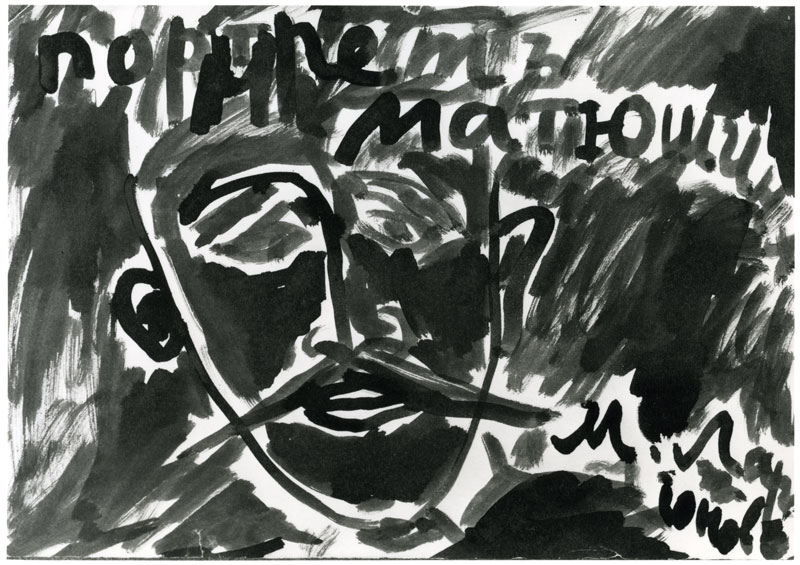 My Moscow colleagues Rudolf Duganov and Aleksandr Niktaev helped me identify other persons. By the mid-1990s they had made sure that this information was partly published in Moscow24Two portraits in the 1987 exhibition were published in 1995 in Alexei Kruchenykh. Our Arrival. From the History of Russian Futurism, ed. R. Duganov, RA publications, Moscow, ill. 5, p. 125 (portrait of David Burliuk, 1987 exhib. cat., no. 86, ill. p. 138) and ill. 38, p. 143 (portrait of Aleksei Kruchenykh, 1987 exhib. cat., ill. p.  139). A. Lukanova, Natalia Gontcharova, 1881-1962, Iskutsstvo-XXI vek, Moscow, 2016, contains a reproduction of yet another 1987 exhibition portrait (joint portrait of Mayakovksy and Burliuk, p. 194).. Thanks to their historical knowledge I was even able to identify a number of locations and to determine the circumstances behind many of the portraits. From some of the sitters present in the portraits it was plain that the artist and his Futurist friends met frequently in the student quarters of the Liapin brothers on Bolshaya Dmitrovka Street. At other times they frequented the Burliuk brothers' younger sister's lodging at the music conservatory known as the "Romanovka." This information was subsequently corroborated by what remained of the Vinogradov archives in the possession of his Moscow heirs25See E. Ovsiannikova, "Larionov i Gontcharova. Materialy iz arkhiva N. D. Vinogradova" [Larionov and Goncharova. Documents from the Vinogradov Archive], Larionov i Gontcharova, Moscow, 2001, pp. 55-72, esp. pp. 67-70 where Vinogradov's notes relating to Larionov's studio, notably the architecture historian's first visit there, are cited.

See also the same author's "Arhitektor N. D. Vinogradow – Zapiki revolyutsionnogo vremeni" [The Architect N. D. Vinogradov. Notes from the Revolutionary Period], Iskusstvo, 1987, no. 11, pp. 34-43, and "Pervyi proletarskiy musei" [The First Proletarian Museum], Panorama iskusstv 7, Moscow, 1984, pp. 268-283. The first proletarian museum in Moscow was established on 8 November 1918 (with an initial exhibition prefiguring the museum in rooms on Bol'shaya Dmitrovka Street, at present 24 Pushkin Street). The museum closed in 1924. Vinogradov had an office in ul. Shchuseva.. In short, the gallery of sitters before one's eyes constituted a virtual  guestbook of Moscow Futurists.
The handwritten annotations by the former owner of a great number of Larionov's lithographs were an indication that he attached little artistic merit to them, for he had used the back of them to take notes in connection with his bibliographic work (making it possible to bear out yet again that Nikolai Vinogradov had been their initial owner)26Larionov Futurist lithographs were among the papers kept in the artist's studio. Vinogradov jotted down notes for his architecture files on the back of them (see the three illustrations above)..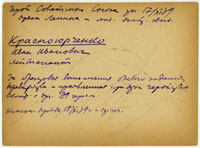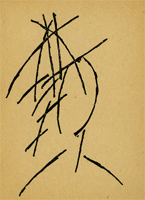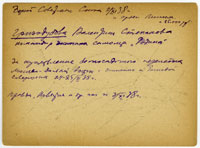 History of the Pigments: Analyses and Period Documents
As for the incriminated pigments – the starting point of the press campaign (8 April 1988) – the presence of Titanium White (T102) was, so to speak, the banner that the accusation raised. When I had occasion to speak out publicly on this issue and to voice doubts based on historical considerations, especially Russian ones (a subject that had carefully been avoided earlier), this pigment suddenly vanished from the discourse of my opponents and was replaced by Manganese Blue27See the so-called "definitive" article of 30 April 1988 in La Tribune de Genève, which based its accusation on the "presence" of this pigment. The findings of the expert appointed by the Geneva court to carry out a chemical analysis of the pastels, Prof. Willy Stern of Basel, confirmed unambiguously that this pigment was not present in the incriminated pastels.

May we add that Manganese Blue is an extremely easy pigment to detect, for the presence of manganese, a metal whose specific weight has been determined beyond a shadow of doubt, is quite simple to identify ?. However, Manganese Blue had been in existence since the mid-nineteenth century !
No reliable authority was cited in connection with the pigments that Larionov used for the simple reason that up until then no one had studied the artist's pigments. Put into a corner as a result of the press campaign and the legal injunctions of my lawyer Maître Pierre Schifferli, the Musée d'Art et d'Histoire made public several weeks after the exhibition had closed results of "analyses" purportedly "carried out in it own laboratory." But it turned out in the course of court hearings that there were no physical traces of these so-called examinations : they had not been "documented," which amounts to admitting that they had simply never existed28See the court's decision of 23 September 1993 concerning La Tribune de Genève. The newspaper had based its accusation on the pigments' "presence.".
On my side, and in a private capacity, I had had pastels of the same provenance analysed. Consequently I was able to accurately identify the hue of white Larionov used: Zinc White with a substantial addition of barium (Ba). Independent chemists at several laboratories belonging to the CNRS (Grenoble, Lyon, Cadarache and Nancy) performed these analyses. The synthesis was made at the Cara laboratory in Avignon (report dated 19 April 1989). The Geneva court having appointed a Swiss expert, a legal confrontation was held on 17 November 1992. Subsequently requested supplementary analyses confirmed the findings of the 19 April 1989 analysis, namely that the pigments of the incriminated pastels contained no traces of synthetic Titanium White. Furthermore analyses carried out in 1995 at the laboratory of the Musées de France (the Louvre laboratory in Paris) on Larionov works donated to the French national museums also revealed the presence of Zinc White containing a substantial amount of barium in the artist's paintings, which had come directly from the widow's estate and thus constituted an indisputable reference29See Jean-Paul Rioux, Geneviève Aitken and Alain Duval, "Matériaux et techniques des peintures de Nathalie S. Gontcharova et Michel F. Larionov au Musée national d'art moderne," Techne, no. 8, Paris, 1998, p. 1732..
Pursuing my historical investigations I succeeded in finding in the early 1990s handwritten documents by Larionov dating from the period 1911-12, in which he specified the names of products manufactured in the Moscow factory of Dosekin and recommended them to his friend Kandinsky30This correspondence is preserved in the Kandinsky archives (Münter-Eichner Collection) at the Städtische Galerie Lenbachhaus in Munich. When I first visited these archives they were filed as "unidentified," since until then no one had examined the Cyrillic manuscripts. In the course of the television program of 24 May 1988, François Daulte theatrically brandished a box of French pastels and declared that they were the pastels Larionov had used. (Incidentally, one wonders where he got the box ?. Thanks to the unpublished correspondence between the artists I was able to conclude the historical investigations I had been obliged to undertake as a result of the vicious onslaught on the authenticity of the works in "The Path to Abstraction" exhibition.
Slander Away, Something Always Remains
Prompted by my determination to establish the truth regarding the authenticity of the works in the exhibition, at once for myself and for the public in general, I had a bailiff seize all of the exhibited works when the exhibition closed and with the agreement of the director of the Geneva museum31With the agreement of the Director of the Musée d'Art et d'Histoire in Geneva the works were impounded on 19 May 1988 by the bailiff Jan Staehli.. I did this for two reasons: firstly I did not want the works to disappear for any reason whatsoever (panic of the owners or any other kind of reason). Secondly, suspecting fraudulent manipulations, I was afraid that criminal hands might get hold of them. My only motive was to ensure that the works were safeguarded, so that the truth could be demonstrated and no less so that they were protected from being destroyed, as François Daulte, his colleagues and the officials of City of Geneva who had ranged themselves in his camp were requesting with insistence. Thus when the City of Geneva felt obliged to file a criminal action against me, hoping to silence my objections and to have the public prosecutor sequester the works, the latter was surprised to learn that they had already been sequestered — at my request.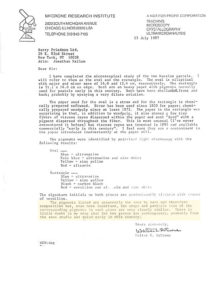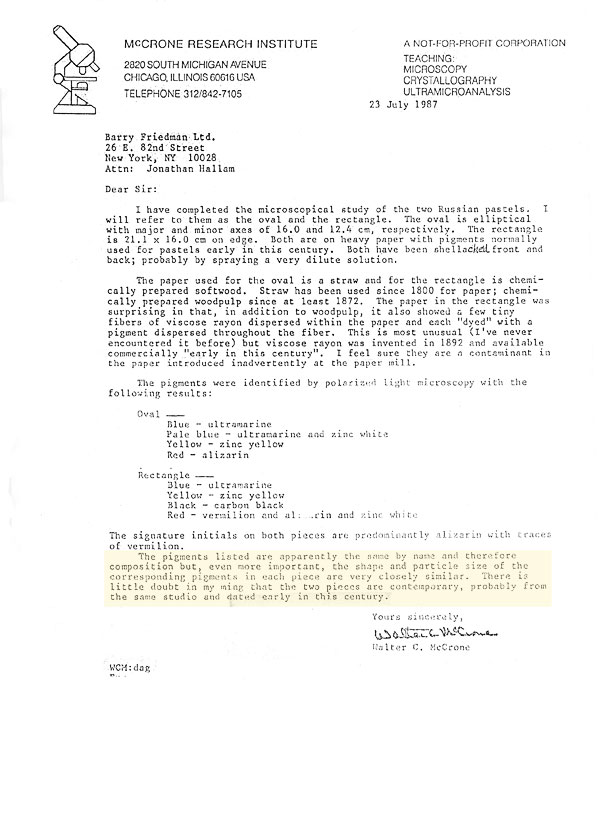 In the course of proceedings, which were intentionally drawn out in order to exhaust all legal deadlines, I discovered that the American chemical analyses that had spearheaded the attack of the New York dealers had in fact been anything but genuine. The document was merely a convenience certificate, unlike the previous document by the same Chicago laboratory that had stated that the pigments were authentic32Carried out by Walter Crone, a private chemist in Chicago, on 23 July 1987 at the request of Barry Friedman Ltd. in New York, the analysis carried out in this laboratory had initially been positive and had authenticated the works. McCrone had concluded, "There is little doubt in my mind that the two pieces are contemporary, probably from the same studio and dated early in this century." But the following year, mailed on 30 March 1988, McCrone went back on his previous statement.  Another "analysis" was carried out "privately" by the New York chemists Eugenia Ordonez, who claimed to be affiliated with the New York MoMA. W. Stern, the expert appointed by the Geneva court, attempted to contact her several times, but she never answered.

See the facsimile of the report of the analysis.. The judicial inquiry was in fact permanently distorted by fallacious documents, fake letters and false affidavits, up to a false "criminal" file that someone sent Interpol, which then forwarded it to the examining magistrate in Geneva. This piece of extravagance induced me to contact the "Informatique et Liberté" Commission in France, which confirmed my suspicions33In May 1994 I applied to the CNIL (the French National Commission for Data Protection and Civil Liberties) for information in this connection. Following an investigation in several departments of the French National Police, it turned out that the police file contained no trace of the documents transferred to Geneva through administrative channels (case closed on 24 October 1994).. It would be fastidious of me to list the fake journalists who contacted me and the fake letters of insult I received. A Swiss television team was even sent to interview me. But although scheduled to be aired early in September 1988, as announced in the Geneva press, the interview was called off at the last minute34In the summer of 1988 Swiss Romande Television in Geneva began preparing a programme on the "Larionov Affair." In June of that year a team of four came to interview me in Paris. In the wake of a request by my lawyer to view the statements I was alleged to have made before they were aired, the broadcast (which had already been announced in public programs) was cancelled at the last minute with no explanation.. Once again I was prevented from speaking out in public.
Quantities of articles circulated from one periodical to another and continue even today at intervals to fuel rear-guard actions35Probably fuelled by the same sources, the American magazine Artnews repeats these attacks regularly.. In 1993, I even succeeded in getting the Tribune de Geneva condemned for printing defamatory statements – a very rare occurrence in Switzerland. Whenever I initiated a new legal action I gained a "right to respond" in the press. In an ultimate ironic twist the bombastic reports of the Geneva reporter who let herself be lured into what she had hoped would be a "scoop" were awarded a prize for "the best Swiss reports" for 1988.
On 10 November 1995 the court in Geneva finally dismissed the case. Losing no time, one of the parties who had signed the scandal-mongering "open letter" of 1988 changed his mind and, with a few reserves, accepted the authenticity of the works in question36See Pospelov, Gleb, "Falshivye raboty : smertnaja kazn' ili pozhiznennoe zakljuchenie" [Fakes, a Death Sentence or Life Imprisonment] in Kommersant Daily, Moscow, 26 December 1995; also Nina Maharachvili, interview with Gleb Pospelov in La pensée russe, no. 4296, Paris, 9-15 December 1999, p. 18.. Several other art historians followed timidly in his footsteps, though the majority of them are still waiting for an official confirmation to range themselves on the side of authorized opinion. Still, the affair seemed to have been laid to rest when the City of Geneva then proceeded to initiate proceedings, not against the organizers of the exhibition, but against the works themselves37The Public Prosecutor of the Swiss Republic and the Canton of Geneva made the motion for the works to be confiscated and destroyed on 23 November 1995.. A plea was again entered for them to be purely and simply destroyed.
A second legal battle ensued. I registered as a plaintiff on behalf of the works against the City of Geneva, which continued to sue for their destruction an the grounds that they were "fakes"38In 1996 the City of Geneva's request was dismissed.. At the end of several years of legal battle, the court arrived at a typically Swiss conclusion: "neither for nor against, but precisely the opposite." It allowed that the works could be returned to their owners provided that they bore on their on the back a stamp stating that they were "fakes" and that they had featured in the 1988 exhibition. This absurd mark39This mark, which put an end to the sequester, was placed on the works in question at Geneva's Musée d'Art et d'Histoire in March 2002. now constitutes a highly original proof of the part the works played in the modern perception of Larionov's art and the beginnings of abstract painting, a still somewhat controversial subject, as it happens. The conclusion would seem to be that art history is not fashioned in labyrinthine legal proceedings and even less so in the lucubrations of large-circulation newspapers. As for the future of this essential part of Mikhail Larionov's work it is again available for exhibitions; it is only waiting at present for art historians to take it in hand. That is the aim of this internet site.
Postscript
… History Rewritten
In early 1997 the publishing firm of La Bibliothèque des Arts in Paris, which belonged in effect to François Daulte, brought out a slim volume of interviews, François Daulte- Entretiens avec Frank Bridel, a hagiographic publication intended to enhance Daulte's reputation. Though its details the numerous "exploits" of the art historian, connoisseur and expert, the subject of Larionov is not even mentioned once. Apparently this subject was no longer appropriate.
Daulte died in Lausanne (Switzerland) on 18 April 1998, which occasioned a number of accolades in the Geneva press. Shortly afterwards, the scandal of Anne-Marie Rouart's estate broke (she had died in Paris in December 1993) : twenty-four paintings that had "vanished" from the inventory of one of Manet's heirs were "discovered" in the vault of François Daulte's Swiss bank. These works were later restored to the Institut de France in Paris, consistent with the terms of the Rouart will40"Où sont passé les trois Manet ?" Le Figaro, 18 April 1997. The affair of the stolen inheritance was picked up by other periodicals : The Art Newspaper (New York and London), no. 100, February 2000; 24 Heures (Lausanne, Switzerland), 2 July 2000; Le Figaro (Paris) 16 June 2000; Libération (Paris), 29 June 2000. For subsequent developments, see J. M. Tasset, "Un coup de théâtre dans la succession Rouart. Des Degas, Manet, Corot retrouvés" (see also the paper's first page); Le Figaro (Paris), 7 December 1999, pp. 1 & 34. Reports appeared as well in Swiss French-speaking papers ("L'étrange silence de François Daulte," 24 Heures, 1-2 July 2000, and in the international press (The Times, 8 December 1999, The Art Newspaper, February 2000). As for the dénouement of the affair, the stolen paintings were handed over to the Institut de France for keeping at the Musée Marmottan in Paris (see Le Figaro, 16 June 2000, p. 28, where the news item was printed under the heading "Scandale – Succession Rouart : le dénouement"). The French press as a whole ran stories based on the Figaro's revelations (see for example Libération, 29 June 2000).

When the scandal of the "vanished" works was revived in 2011 François Daulte's name was again brought into the public eye. See "Le trésor sulureux des Wildenstein," Le Point (Paris), no. 2003, 3 February 2011, pp. 81-82; Henry Bellet, "La police a saisi des œuvres 'disparues ou volées' à l'Institut Wildenstein," Le Monde (Paris), 3 February 2011; Béatrice Rochebouet, "L'affaire qui secoue le monde de l'art," Le Figaro (Paris), 10 February 2011, pp. 27-28; Yves Rouart, "Le tableau de ma tante dans le coffre des Wildenstein!" (interview), Point de vue (Paris, no. 3265, 16 February 2011, pp. 30-32..
Tout récemment le scandale des œuvres « disparues » allait rebondir faisant venir de nouveau à la lumière du jour le nom de François Daulte, cf. « Le trésor sulfureux des Wildenstein », Le Point, n° 2003, Paris le 3 février 2011, p. 81-82 et Harry Bellet, « La police a saisi des œuvres disparues ou volées à l'Institut Wildenstein », Le Monde du 2 février 2011 et Béatrice Rochebouet « Sur la piste des Manets disparus » in Le Figaro du 10 février 2011, p. 27-28 et Yves Rouart « Le tableau de ma tante dans le coffre des Wildenstein ! » (interview avec) in Point de vue n° 3265, Paris, 16 février 2011, p. 30-32.[/mfn].
Faithful to the line that François Daulte initiated, Geneva's Musée d'Art et d'Histoire, in particular its director Cäsar Menz, who succeeded Claude Lapaire in 1994, took the side of blind, arrogant accusation and refused to answer my open letters of 1995. His method of governance, which the local press described as "arbitrary" and even "feudal," resulted in his resignation in 2009, as his action was viewed as a "failure" and was "censured" in a "devastating audit"41See "Musées de Genève : un audit dévastateur," Le Temps (Geneva), 8 May 2009; also La Tribune de Genève (Geneva) of the same day.. The somewhat consoling conclusion is that sooner or later Dame History ends up cleaning house
As for the complaint of Alexandra Tomiline-Larionov's heirs, yet again it bogged down in complicated legal procedures and was eventually suspended due to the death of the widow's nephews. Yet, though filed in Paris, it nevertheless had an unexpected repercussion in Moscow: in 1997 a project for a museum show that was to feature a good number of the artist's works which had "vanished" from his widow's estate was purely and simply cancelled.